When you browse the Internet, your computer continuously generates and receives messages. Your Internet Service Provider (ISP) records this information, including your Internet Protocol (IP) address and the website you are viewing. In addition, when you use public Wi-Fi, cybercriminals may intercept your data, read your messages, and steal your login name, password, and credit card information.A virtual private network (VPN) can help protect your browser activity by encrypting it. If you are planning to learn any IT security courses or computer security courses, the online Cyber Security course is the right choice for you. Well, before you decide to take up the online cyber security course, learn more about cyber security. Read on to learn more about how VPN works and the benefits it provides.
In this article
What is VPN for Windows?
Reasons to use VPN on Windows PC
How does VPN for Windows work?
What is the best VPN for Windows PC?
Should you choose a free VPN for Windows?
How to configure VPN for Windows PC
What is VPN for Windows?
The virtual private network offers privacy and security for your surfing activities through encryption. VPN typically runs in the background of a Windows computer, so you can connect to it and browse as usual. By using a VPN, you connect to one of the VPN provider's servers, so the IP address you browse will be that server's address instead of your own address, thereby providing privacy.
Additionally, a VPN encrypts your Internet traffic to help prevent unauthorized access when intercepted. When running Windows 10, Windows 8, or Windows 7, a VPN can help protect your PC browsing data.
Reasons to use VPN on Windows PC
Whether your PC is a laptop you use on the go or a desktop you use at home, there are many reasons to use a VPN. When you browse online, the IP address of your PC is associated with all your activities. The IP address can identify your ISP, and may even identify your location, including country, region, city, and even GPS coordinates. When you use a VPN service, your browsing activity is connected to the IP address of the VPN server, so when you connect to the VPN, your browsing activity is hidden. This provides you with online privacy and anonymity.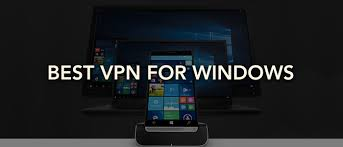 Another reason to use a VPN is whenever you use a public Wi-Fi network. On public Wi-Fi, cybercriminals can see what you are doing and may intercept valuable information you may enter, such as your credit card number, username, and password. Using a VPN is like creating a secure tunnel for your browsing activities. Once you connect to the VPN server, everything you do is inside the "tunnel" and is encrypted. It's like having a private network on public Wi-Fi, so you can enjoy the convenience of a hotel, airport, or coffee shop, but still keep your activities private.
How does VPN for Windows work?
VPN creates a private network by establishing a secure connection between your computer and the VPN server. When you connect to the VPN, you will connect to the server in the selected location. Your browsing activity is basically contained in the tunnel created through the connection and is encrypted. It does not associate your browsing activity with the IP address of your PC, but with the VPN server you are connected to.
There are a few things to consider when choosing the VPN that best suits your needs. When making your selection, consider the following features.
Encryption: strong encryption technology
Bandwidth: Enough bandwidth for your use, especially when used on multiple devices at the same time. Some providers will offer plans for unlimited data usage.
Non-logging: Providers that don't keep logs of your browsing or downloading activity
Ad Tracker Blocking: Some VPN services include the ability to block tracking cookies used by advertisers
Server location: multiple server locations worldwide
Operating system: VPN for your Windows PC and other devices and operating systems you use.
Support: Provide provider support when you need it through various channels such as phone, email, and chat
Should you choose a free VPN for Windows?
Many providers offer free VPN services, but there may be limitations on the strength of security, bandwidth and quality of service provided by the provider. Free VPNs can also cover their expenses by tracking your activity and using them to advertise you.
A free VPN is more likely than a subscription-based VPN to limit the amount of data usage, limit the connection speed, limit the number of simultaneous use of the device or have only one few server locations available. Before choosing a VPN for your use, be sure to review these various features to aid in your selection process.
How to setup a VPN for a Windows PC
Once you have selected a provider, it is easy to configure to use your VPN service. Follow the instructions provided by your ISP to download the software and set up your account. Once you are set up and you have the software on your PC, open it to launch the VPN.If applicable, select the server location you want to connect to and turn on the VPN. Often you can either select the client your VPN server automatically or you can manually select the server location yourself if the VPN offers this option. After connecting to a VPN, you can browse as usual. The VPN runs in the background to protect your browsing activity.