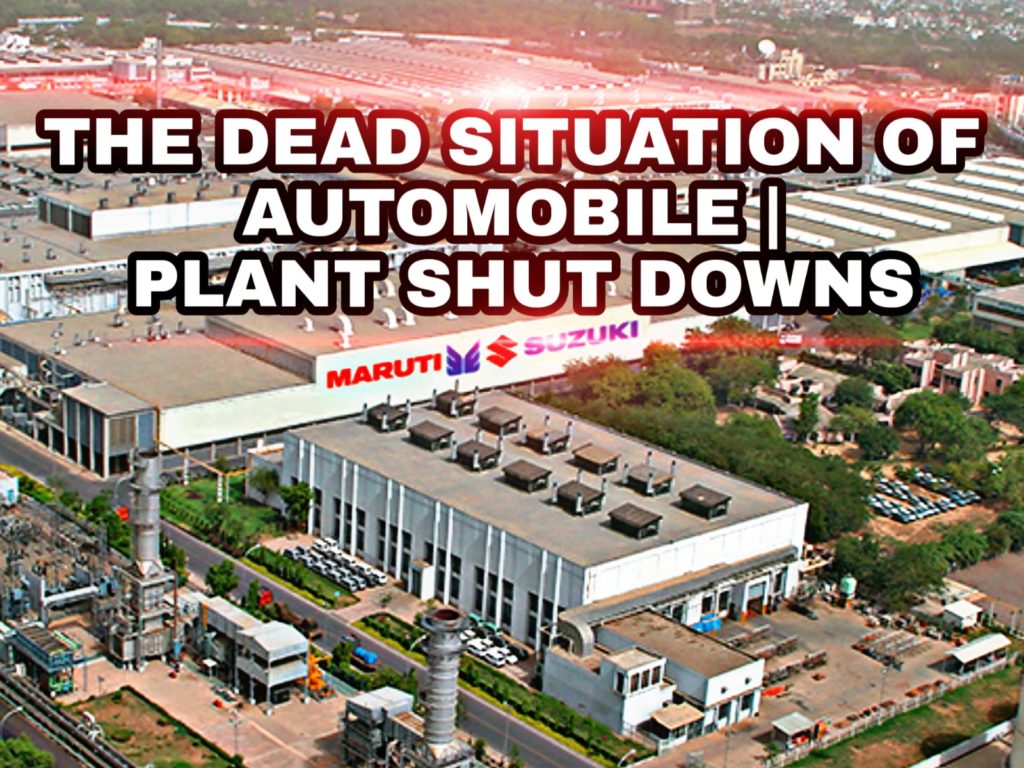 After the slowdown of automobiles there have been a crisis in auto industry, effecting the jobs, economy, and the companies. Slowdown in automobile industry | Car makers is in trouble
---
Nowadays, it has been observed that the automobiles has been slow down. Recently Maruti Suzuki also announced Gurugram & Manesar plant shutdown. It is no secret that the automobile industry has been slowdown since last 1year. People with lower income are not able to afford the vehicles, prefer the public transport which seems to be a easy way to save money, time, and can be saved from the other agencies. (Slowdown in automobile industry 2019)
Impact on economy due to slowdown of automobiles &  lowdown in automobile industry
The sale of passenger vehicle has declined on a year on year basis.
49% auto sectors effected negatively to the country's manufacturer GDP.
7.1% effect of the automobile sector to India's GDP.
3.5 lakh automotive job person have got unemployment.
Many dealers shut their shops.
Reasons of slowdown automobiles
Harder to get loans – banks have become more strict about giving out loans, favoring only those with high CIBIL scores.
The decision to withhold the multifold hike in vehicles registration fees.
The increase in depreciated rate by an additional 15% for vehicles purchased.
The auto industry's biggest demand- a cut in the goods and service tax was not met.
There is no incentive to raise demands for two wheeler, which comprise 80% of domestic auto sales.
The parts of old models are not available in the market.
---
TOP AUTOMAKERS CONDITION
Toyota motors
Toyota motors reported a decline of 22.43% in its domestic sales in last month.
Bajaj auto ltd.
Tata motors said it's passenger vehicle sales in the domestic market declined by 26% to 12,694 units last, compared to 17,235 units in year 2018. 65% employees of the company due to crisis were fired as no work was to be done much, & no vehicles were much on sales.
Mahindra
Mahindra saw it's passenger vehicle sales drop 8.94% to 19,966 units in April as against 21,927 units in the year-ago period. Reports were that the auto maker has retrenched about 1,500 temporary workers since April 1 this year.
Honda motor Co. Ltd. Company
Honda surveyed & saw it's passengers declined the sharpest at 48.67% . It was auto index declined to the lowest level in five years. Drawing parallel from the past, they believe that the industry is mad-way in slowdown for two wheelers & passenger vehicle.
Maruti suzuki
Maruti sales declined to 36.71% respectively. Mahindra has told last month that the worst is still to come. It's analysis have closely observed & studied the slowdown in auto sales over 20 years. This company lost many of its workers. Over 3,000 temporary workers lost their jobs with the country's largest carmaker due to ongoing slump in the automobile industry.
Tata motors
It is likely to have affected over two lakhs people, who are directly or indirectly involved with the company.Lower demand for automobiles over the past few months have passed fresh uncertainty over the operations. Lower demand for vehicles has crippled growth in auto sector. Several top automobiles executive have asked the government to rectify the problem. Tata motors has cut down on production activities in the wake of the slowdown. Due the crisis at automobile industry 3.5 lakh employees lost their jobs since April 1.
Governments measure to boost the auto sector again:-
The finance minister on Friday announced some measure to boost the auto sector. Also announced that the proposed hike in the registration of vehicles has been postponed till June 2020. The government has also decided to increase the depreciation to 30% on all acquired till March 31,2020.
The revision of one time registration fees has been deleted till June 2020.
BS-4 vehicles purchased up to march 2020 will remain operational for the entire period of registration.
also read: