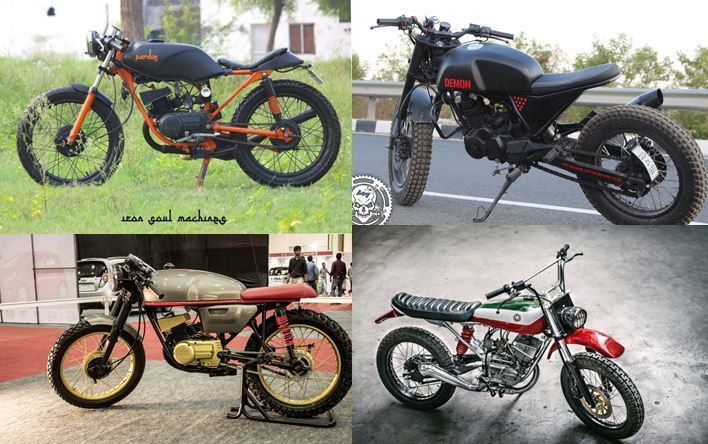 12 Best Yamaha RX 100 Modified Bike || Yamaha Rx 100 is the best bike in Rx series. It does not hold any controversies that It is one of the most famous model due to its lightness and pick-up. But the fan had always discussion that Yamaha Rx 100 is the king of Rx series.It was launched before 30 years ago but still has millions of fan across the country. People hold huge respect for this historical bike and idealize this model. also it is the best bike for modification & renown for making cafe racer & Dirt bike. yamaha rx 100 modified bike photos are here.
 Recommended Bike Accessories by innovation guru

So, here are 12 Best Yamaha RX 100 Modified Bike
Also Read: Yamaha RX100 Bike Price, Images, Specs & Mileage
1: Yamaha RX 135 Cafe Racer (Iron Soul Machines)
2: Yamaha RX 100 Cafe Racer ( Ironic Engineering)
3: Yamaha RX 100 Scrambler
4: Yamaha RX100 'Baby Blue' ( Ironic Engineering)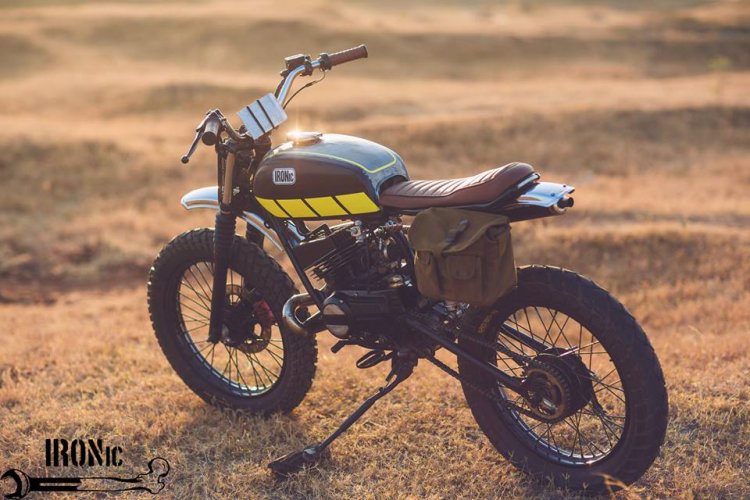 5: Yamaha RX100 Scrambler 'Yambam' (Nomad Motorcycles)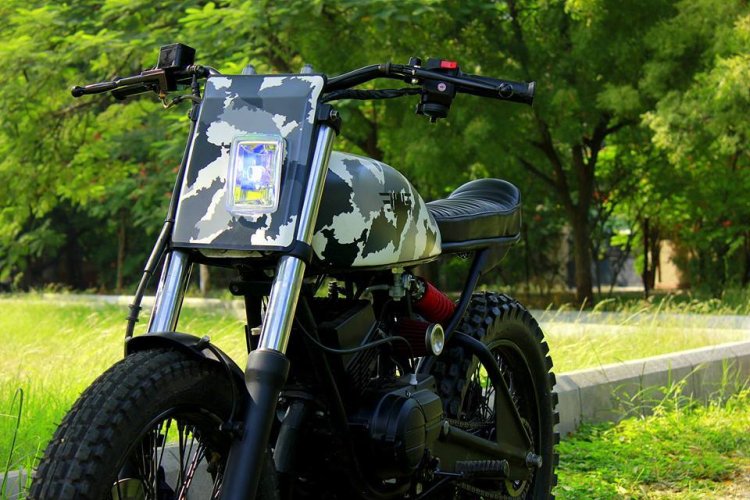 6: Yamaha RX 100 Gunmetal Grey
7: Yamaha RX 100 Sero
8: Yamaha RX 100 Madras Cafe Racer
9: Neatly-Customized Yamaha RX 100
10: Yamaha RX 100 by RTM Design
11: Restored Yamaha RX 100
"KGF Bike" based on Karizma-R 223cc | Roking Star Yash KGF Movie Bike | Karizma Modified into KGF Bike By Dirt Machine Custom Motorcycles
Project Details –
Approx 45 Days taken to build
Enhanced ground clearance
Engine – Karizma-R 223cc
Tyres –
Front- Michelin Scrambler 4-18
Rear- Michelin Scrambler 4-18
Wheels –
Black powder coated steel rims with 40 spokes setup
Braking –
Front – Disc , Four Piston Caliper.
Rear – Disc , Dual Piston Caliper
Suspension –
Front – UpSide Down
Rear – Mono shock
RE Continental GT fuel tank (converted from FI to Carburetor )
Custom made swing arm
Custom exhaust.
After market dual meter set for RPM and Speed
Custom Made Rear Chassis , rear flap and side panels
Hed light , strip tail light
Comfortable shorter seat.
Custom paint , Graphics and detailing.
Modification & Suppliers of Yamaha RX100 in India
Point Sachdeva Automobiles, Delhi Shop No-88,91, Lime Mandi, Chitra Gupta Road, Paharganj, Delhi Mobile No-9953605181 Satguru Automobiles, Noida Hansraj Tower, Main Road, Sector 31, Noida Mobile No-9811335031 Alam Auto Center. Noida Sharma Market, Near Shiva Temple, Hoshiarpur, Sector-51, Noida Mobile Number -9990976786 Read more-Ramdev Motors and Station, Rajkot Contact Person- Ravi Harsoda -8048558347 Sambandh Motors,Delhi Contact Person -Roshan Mobile Number – 9653836283 Bike Jinni, Gurgaon Mobile Number -995303404